Project News
---
Medical Gas Replacement at Hines VA
BUILDING 200, MEDICAL GAS REPLACEMENT/UPGRADE:
One common thread for infrastructure projects is that they are often in response to a crisis (e.g., a bridge collapses). The crisis for the Hines V.A. Hospital in Hines, Illinois, was not as spectacular, but no less serious. A state inspection of the hospital's medical gas system diagnosed that the purity had dropped below the acceptable level.
In other words, veterans who were receiving treatment in the hospital could be subject to, for example, contaminated oxygen. Interim procedures were put in place while the contracting department sent out for bids.
Recognizing an opportunity to apply Stowell's project management skills in a hospital environment led to the company forming a joint venture to meet the VA's contracting needs and submitting our proposal. With good fortune, as it turned out, our JV bid was successful.
In the initial meeting with the hospital's senior medical management, we hit a roadblock. The engineer's design had the 15-story hospital making whole quadrants available for construction activities. Since the hospital was filled to capacity, it was a short meeting.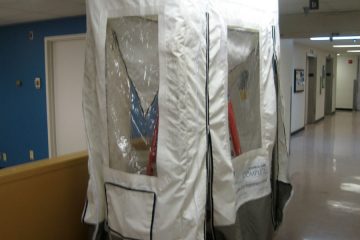 The following months, working with our Contract Authority, Mark Dusan, and our major subcontractors, IPS (later became F.E. Moran) and SRC Electric, we researched where, and how, we could install the thousands of feet of copper piping and major pieces of electrical and mechanical equipment, and not interfere with patients. A tall order.
Remarkably, Mark found an unused dirty laundry elevator shaft, only 7' by 8', in the very center of the building, only accessible from the soil holding areas. Eureka, we had a location for the risers that required no disruption.
That was a great start, but we still had to reach every patient room on every floor with branch/distribution piping, be it Oxygen, Nitrogen, Carbon Dioxide, Carbon Monoxide, Nitrous Oxide, Medical Air and/or Vacuum (not actually a Med Gas, but part of the suite). In doing so, tradesmen had to work in containment modules and create minimal noise. Quite a constraint.
Over the next three years, and quite a few mini-crises (e.g., funding hold-ups, sub-contractor insolvency) the project was steered to a successful and drama-less conclusion. As we always do, we left the hospital with comprehensive documentation of what was constructed (e.g., As-built drawings, O & M manuals) to facilitate on-going maintenance.
What we, Stowell, got out of it was the appreciation of our client and the satisfaction of being able to improve the working environment for the remarkable VA staff as they provide vital care to their patients, the men, and women who gave so much for their country.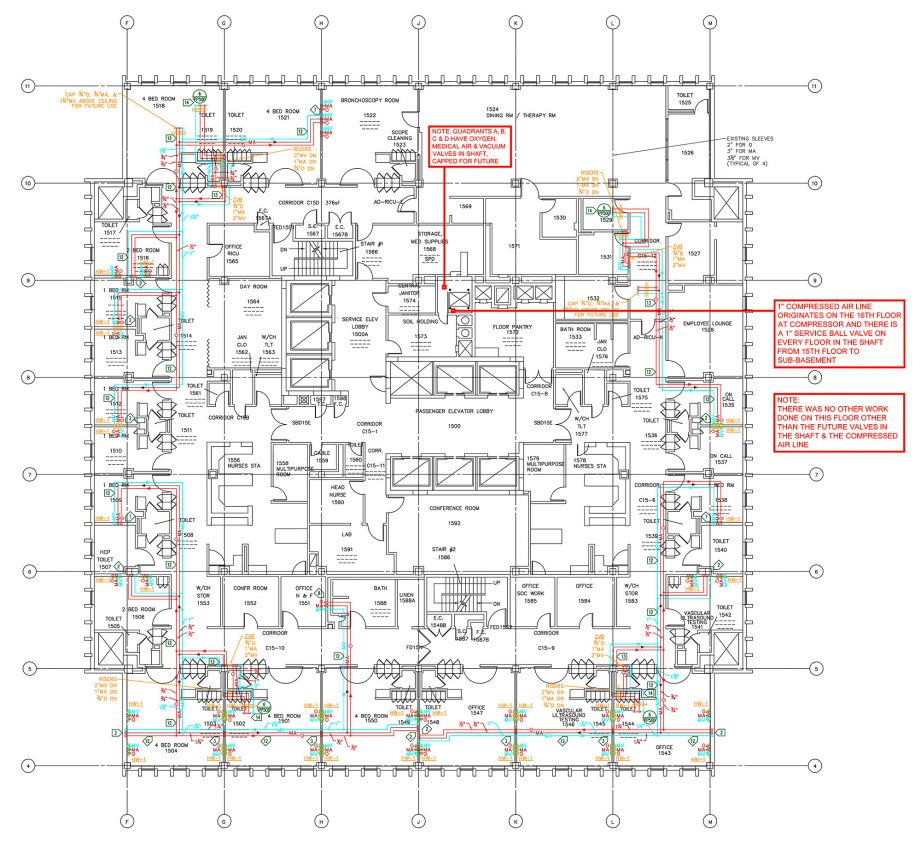 Email a Friend»
back