Featured Projects
Diagnostic Suites - Featured Projects
Building on our experience remodeling X-Ray rooms, we were ready in the early 1980s for the new technologies of Computed Tomography (CT) and Magnetic Resonance Imaging (MRI). We got our feet wet at Loyola University Medical Center, working with a new company, GE Medical Facilities, preparing a room for a new CT scanner.
From there we built-out a new MRI site in the old Aero-Med building at UIC, installing extensive magnetic shielding on a tight project schedule ready for the year's RSNA convention. We've lost count of the number of similar projects we've done since.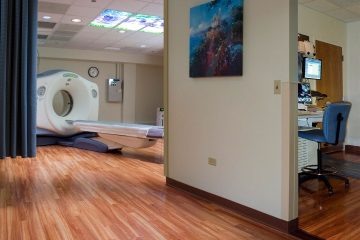 St. Alexius Medical Center, MRI & CT Labs
Healthcare
•

Diagnostic Suites

•
Building spaces for the most powerful Magnetic Resonance (MRI) and the most sophisticated Computed Tomography (CT) systems, in tandem, was a scheduling challenge that came with lots of BTUs. The answer was the addition of three roof-mounted chillers, with one dedicated to pumping a refrigerated glycol based water solution through the MRI itself.
learn more»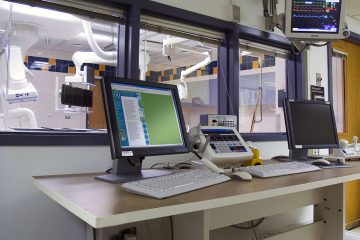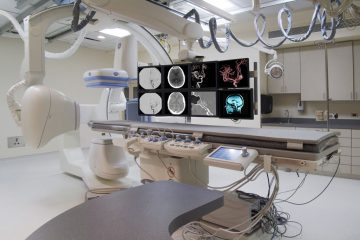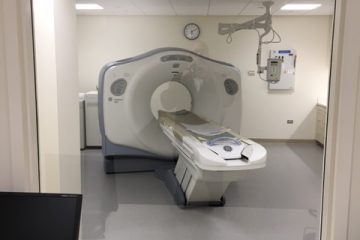 Advocate Lutheran General CT System
Healthcare
•

Diagnostic Suites

•
With all the GE Healthcare CT systems for which we have had to build spaces, there's not much that we, at Frank H. Stowell & Sons, have not seen.  Still, the preparation for a new GE Lightspeed VCT at Advocate's Lutheran General Hospital presented a challenge.
The floor beneath the CT was not thick enough to stabilize the CT adequately.  Any vibration would distort the imagery.  The solution was to add buttresses to the concrete deck from below the floor, in the space that was occupied by the Sterile Processing Department (SPD). 
learn more»
back