Education - Featured Projects
Working on projects for major educational institutions means working with facilities directors and project managers, professionals who know what they want and are committed to getting it done right. Frank H. Stowell & Sons has built a reputation on projects large and small for some of the country's most prestigious organizations, delivering quality projects on-time, to specification and with the minimum of fuss.
We are proud of the workmanship that endures, no matter the size of the project or the prestige. Fortunately, we have enough high visibility examples to go along with the hundreds of necessary jobs essential to meeting institutions' safety and upgrade needs.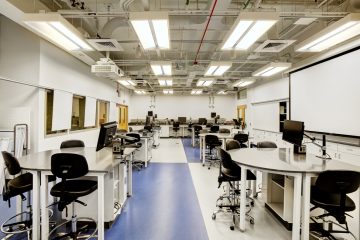 MSE Teaching Lab
Education
•

Educational Remodeling

•

Lab Projects

•
This prestigious university had a very clear vision for its renovated teaching lab: the optimum combination of active group learning and hands-on experimentation for those entering research in the field of Material Science and Engineering,
That called for robust infrastructure (electrical power and data, specialty gases, heating, air conditioning and exhaust systems), leading-edge technology (microscopy, high-speed data and audio-visual integration), and the aesthetic you're not supposed to notice (clear sight lines, hidden conduits, and borrowed light to name a few).
learn more»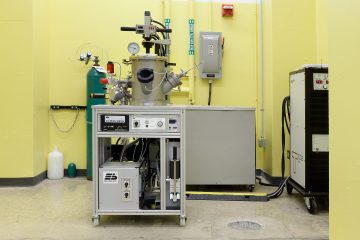 Material Science Lab
Education
•

Lab Projects

•
So what happened to revolutionize computing and produce computers that fit just about everywhere – in a cellphone, in a watch, or in a refrigerator, computers with more than a thousand times more power than the computer that put a man on the moon? Material science, that's how.
Material science found ways to create super-alloys that gave us semiconductors and integrated circuitry tinier than can be seen by the human eye.  This Arc Melter shown here can produce heat up to 5.000 degrees Fahrenheit, a temperature at which the atomic structure changes.
learn more»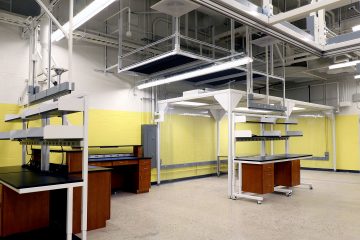 Rocket Science Lab
Education
•

Lab Projects

•
For scientists to fully understand what makes our world tick requires a comprehensive knowledge of our solar system and the biosphere beneath our feet.  That takes them into the realm of temperature extremes, from close to absolute zero to thousand of degrees Kelvin.
The lab to study what happens at the extremes has to be robust, to put it mildly, and loaded up with infrastructure to manage the temperature extremes (e.g., heat exchange systems, cryogenic detectors) and to control the environment (e.g., cleanrooms) – 100 technical submittals-worth.
learn more»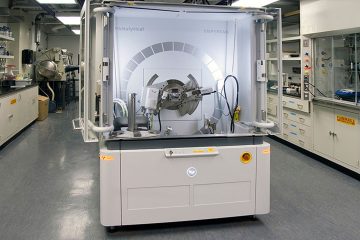 Synthetic Inorganic Chemistry Lab
Education
•

Lab Projects

•
Science is pushing the boundaries of our natural world and creating materials that exceed the best refinement of organic matter.  Sounds complicated, but think "synthetic oil".  Thanks to some molecular fine-tuning, our engines are enjoying a better product than conventional oil.
That is just an indication of the potential of this field. The devices shown here are used for applying synthesizing techniques such as crystallography, magnetism, and spectroscopy, techniques that should lead to more discoveries.
learn more»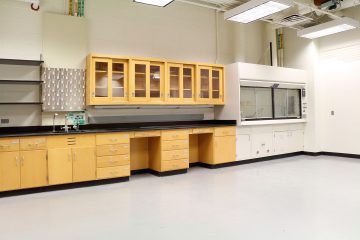 Thermoelectrics Lab
Education
•

Lab Projects

•
The thermoelectric effect is the conversion of temperature differences to electric voltage and the reverse, a thermoelectric module may be used for both heating and cooling.  Interesting but that seems like a hard way to create electricity.  It is indeed.  However, there are applications where this is a very practical option, such as in space exploration and in military equipment.
learn more»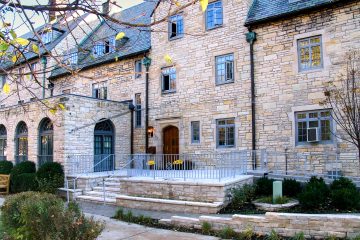 Sorority Ramps Remodel
Education
•

Educational Remodeling

•
While we, at Frank H. Stowell & Sons, are more likely to remodel interiors than perform exterior work, we have done our fair share of ADA ramps.  Invariably, creating space for an addition to a building's footprint is the major challenge with inclement weather a close second.
When it came to these very attractive ramps for two adjacent Sororities, the challenges were more interesting. 
learn more»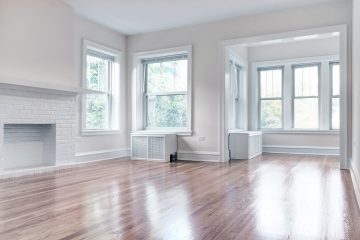 Student Residence
Education
•

Educational Remodeling

•
When it was time to upgrade these student residences, the facilities department of this prestigious school knew they were opening the proverbial can of worms. The superficial problems were obvious but what would they discover when the process got underway?
The goal was to make the residences safe, secure and comfortable. Note that comfortable should not be confused with luxurious. Then there was the natural wear and tear. Much of the plumbing and wiring went back to the building's construction (1920s) and the bathroom fixtures looked about as old. Plaster walls were so bad in places that complete dry-walling was necessary.
learn more»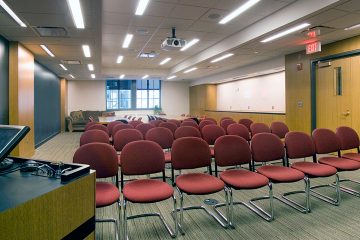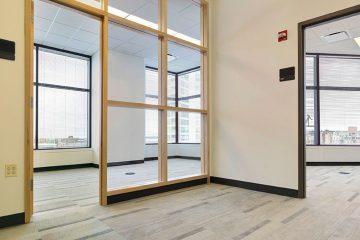 Overseas Support Office Remodel
Education
•

Educational Remodeling

•
Top schools are increasingly looking overseas for growth opportunities.  That can be by attracting foreign students or finding ways to offer courses around the world.
Investing in a professional space to support those activities is a sound investment.  This office is dedicated to supporting a teaching presence in Qatar. 
learn more»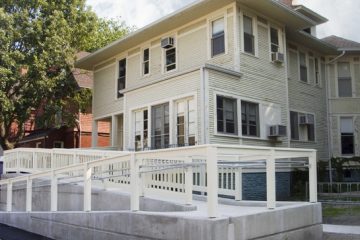 ADA Disability Ramp Addition
Education
•

Educational Remodeling

•
Anybody who has ever been in a wheelchair, or who has accompanied someone in a wheelchair, will know only too well the challenge of navigating through the myriad of obstacles that surround us.
Addressing these challenges with ADA (American Disability Act) ramps is no trivial matter. There's the issue of fitting the ramp in a confined space and all the safety regulations – everything from the correct amount of slope, width and grip to the proper size of landings to allow for turning, to when and where handrails and edge-protection are required.
learn more»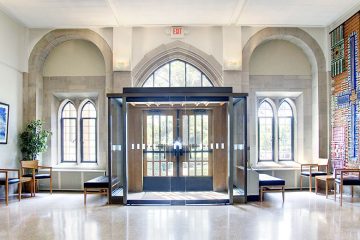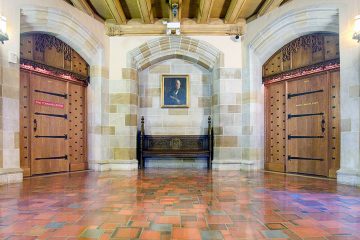 back